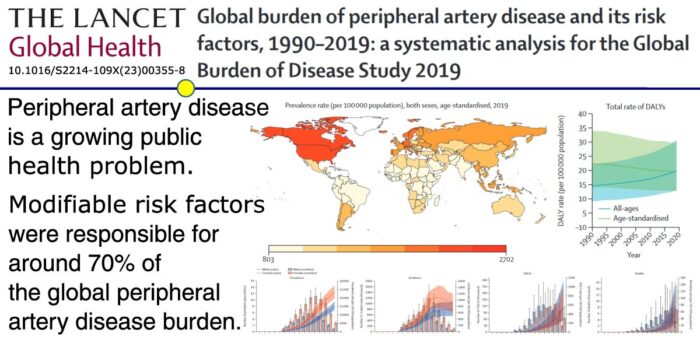 September 20, 2023
Peripheral artery disease is a growing public health problem. In order to inform policy and public measures, the international consortium of the Global Burden of Disease (GBD) Study evaluated burden, risk factors, and temporospatial trends of peripheral artery disease. Scientific-Tools.Org staff actively contribute to the GBD Study, and participated in the preparation of the article "Global burden of peripheral artery disease and its risk factors, 1990–2019: a systematic analysis for the Global Burden of Disease Study 2019" just published in the Lancet Global Health journal.
Our paper demonstrates that 113 million persons globally (95% uncertainty interval [UI] 99·2–128·4) had peripheral artery disease in 2019 (in the group aged 40 years and older) that equals to 1·52% (95% UI 1·33–1·72) of all population in this age group. Moreover, its prevalence has increased globally from 1990 to 2019, even if age standardisation reverses this trend. Peripheral artery disease prevalence was higher in countries with high income and lower in countries with low income, but DALY rates in countries with low income were disproportionate to prevalence, suggesting that peripheral artery disease has not been adequately managed in these countries.
Most importantly, modifiable risk factors were responsible for around 70% of the global peripheral artery disease burden, and therefore implementing interventions aimed at decreasing exposure to risk factors will be crucial to mitigating the global burden of peripheral artery disease. The presented data allows to better plan prevention strategies for peripheral artery disease risk factors, provide care and attention to vulnerable groups, and enrich screening and prevention of peripheral artery disease in lower-income countries. Maximum efforts should be done for correction of risk factors such as smoking, high fasting plasma glucose, high blood pressure, kidney dysfunction, high sodium intake, and lead exposure.